What To Do When Child Custody Gets Ugly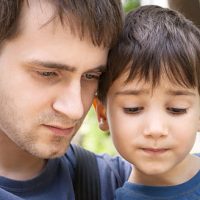 Parents generally want to have a relationship with their children. But, sometimes, because of the conflict between parties, a parent may act in ways that are not particularly ethical or appropriate. An angry parent may wind up trying to prevent you from seeing your children, sometimes based on either on incidents blown out of proportion or on outright lies.
Nevada Child Custody Rules
Nevada, like many states, handles child custody issues by acting in the best interests of the child at all times. Many couples are able to formulate parenting plans on their own, and simply submit them to the court at the appropriate time. However, other couples are not able to agree, forcing the court to create a parenting plan and custody distribution for them. In situations where this has to happen, there are a plethora of factors the court will consider to attempt to ensure the right decision is made. Many of these factors include:
The level of conflict between the parents;
Any past history of abduction, parental abuse, or neglect against the child or their siblings;
The choice or wish of the child, if they are old enough to have an informed opinion;
The mental and physical health of each parent, and their ability to compromise and work toward their child's best interests;
The physical, emotional, and mental needs of the child; and
Which parent will allow the child to have a continuing relationship with the noncustodial parent.
Modification of these rules is possible, but sometimes, a parent will disagree or disapprove of the court's disposition of their case, and they may take dangerous measures to try and get 'control'.
Defending Yourself In Court
If your ex is displeased with your custody arrangement, they may try to file a motion for sole custody. The most important thing that you can do in preparation of a potential custody case is to document everything.
Nevada family courts generally try to act in the best interests of the child, which means that evidence is everything. The state holds that unless a parent is held to be unfit, children benefit from "frequent associations and a continuing relationship" with both parents, and the court will act to preserve those relationships. Thus, most courts tend to take a very dim view of wild accusations – but in some instances, if you lack evidence to prove that your ex's claim is false, it might continue to cause problems.
Contact An Experienced Attorney
Custody is never easy. Untrue allegations and anger make things even worse. If you are going through a custody or divorce motion and you are having to deal with unfounded accusations, contacting a knowledgeable child custody lawyer can make the difference between success and failure. The Las Vegas child custody lawyers at the Kainen Law Group are ready, willing, and (hopefully) able to assist you in your case. Contact us today to schedule an appointment.
Resources:
leg.state.nv.us/nrs/NRS-125C.html#NRS125CSec0035
leg.state.nv.us/nrs/NRS-125C.html#NRS125CSec001