The Process Of Child Relocation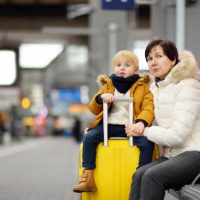 When a divorced parent decides to move, or is provided with an opportunity that would require moving, there is occasionally a perception that they may simply pick up and move. If both parents are involved and are separated, however, this is not actually the case, assuming the relocating parent desires to take the child with them. The laws governing child relocation are quite specific, and it is imperative that you familiarize yourself with them if you want to be able to move and take the child with you.
Consent Must Be Obtained
There is a specific procedure set out in NRS 125C.006 and 0065, which states that consent must be obtained from the non-relocating parent. The rationale for this lies in the State of Nevada's public policy, which is committed to ensuring that both parents have substantial relationships with the child, if at all possible. One parent being able to simply pick up and move runs counter to this initiative.
However, if the non-relocating parent refuses their consent that does not mean that the matter is ended, or that the move may not go forward. The parent who wishes to relocate may thereafter petition the court for permission, though they must do it before the child can leave the state. Leaving the state with the child before permission is obtained, either from their co-parent or the court, can lead to loss of parenting time, and in extreme cases, criminal charges of kidnapping may even be filed.
Seek Experienced Legal Assistance
Sometimes life takes a person in unexpected directions, but most people still want to have family by their side. If you are experiencing relocation issues and need experienced legal help, the dedicated attorneys at the Kainen Law Group may be able to assist. Call our office today to set up an initial consultation.
Resource:
leg.state.nv.us/nrs/NRS-125C.html#NRS125CSec0065